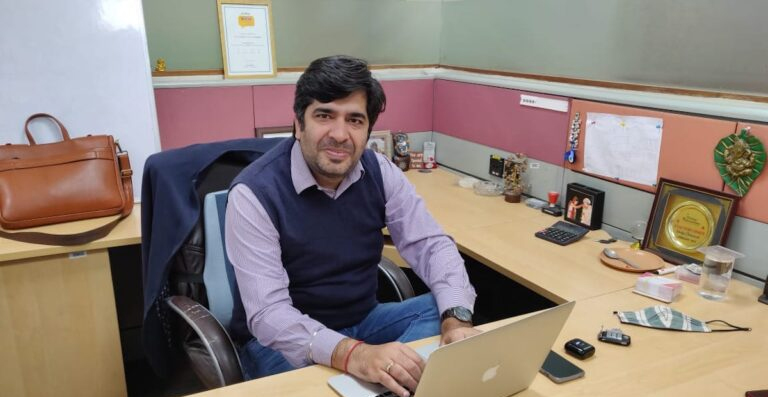 Building an Ecosystem for Building a Business: Dheeraj Khatter in Conversation with Sabine Elsässer
June 22, 2022 | 10:00 am
Dheeraj Khatter, Co-founder – MyMobiForce, gets candid with Sabine Elsässer, Founder and Chief Editor – StartupValleyNews Magazine, on starting MyMobiForce to help enterprises, the idea behind its conception, and his vision for the company. Excerpts:
Q: Please introduce yourself and your startup MyMobiForce to our readers!
A: I am Dheeraj Khatter, Founder & CEO at MyMobiForce. MyMobiForce (MMF) is an organized B2B service marketplace where Enterprise & OEMs get their technical Services (Installation and After Sales Service) delivered using a National level Plug and Play network of GIG workers.
MMF is redefining the way Enterprises and OEMs can interact with Gig workers without worrying about on-boarding, training, compliance, payment and paperwork with complete service assurance.
Q: How did you get the idea of MyMobiForce?
A: We have been part of Telecom Sector for almost 18 years now and have seen the service industry struggle to find a perfect match between Demand and Supply.
While we have been part of many large-scale service implementation, it was always a challenge to hire, Onboard and Train Field Force specially for projects where there is no assured continuity of Business.
In order to bridge the gap between businesses and services, we did our research & feasibility study with the value proposition of connecting with an on-demand workforce, not just for discovery but for getting the work done.
We developed the concept to bring skilled workforce on the aggregation platform, take care of verification & skilling of potential partners while connecting them with Enterprises, OEMS and MSMEs for millions of work opportunities.
Q: Why did you decide to start with MyMobiForce?
A: The potential around the on-demand service industry and lack of efficiency of multi-level outsourcing is what motivated us to get into the field. With a plan to help businesses and services get the most out of professional on-demand workforce, we initiated our startup and formed a plan out of it.
Solution which can help organizations meet the right skilled force (freelancers), at the right time at the right place.
Q: What is the vision behind MyMobiForce?
A: MyMobiForce is working with enterprises, MSMEs and Product manufactures to execute their Pan India implementation and Service maintenance projects by riding on the huge aggregation of Service Technicians and Service Partners available over the platform.
Our vision is to empower 2 million GIG Workers not just by giving them work opportunities, but also digitally upgrading them in terms of skilling, earning, helping them access to right spares, accessories etc. which can help them build a better financial profile so that we can help them with Microfinancing loans if required.
Q: How difficult was the start and which challenges did you have to overcome?
A: One of the Major challenges was to balance the demand and supply as we are building an organized marketplace. It's important to onboard partners only when you can give them enough work opportunities. Another challenge which we had to overcome was to bring in a sense of discipline and professional approach among the diverse gig community around the country.
Q: Who is your target audience?
A: MMF is trying to aggregate the Service demand from larger Enterprises, OEMS and MSMEs in high end Technical services in telecom, Networking, Home appliances, EV, Solar etc.
Q: What is the USP of your startup?
A: There is a difference between transaction and engagement. We are into engagement business where we need to provide consistent value to both enterprises, MSME and our Service Partners. Our focus is to deliver high end services through an organized service marketplace.
My Mobi Force will ensure these customers are never away from Skilled Service, Installation and Repair solutions.
Q: Can you describe your typical workday?
A: Workday start with scrum meetings with critical business functions like Sales, Operations and Product to align the daily priorities. I am Part of most of the important Sales meetings to get the customer Pulse and firsthand feedback about their issues, vision and how we can be part of their digital transformation journey.
Spend remaining time on responding to emails and analyzing the business and thinking about new initiatives or ways to improve the business. I try to speak with few of our service partners almost every day to make sure they are happy and take suggestions from them.
Q: Where do you see yourself and your startup MyMobiForce in five years?
A: Over the next five years, MyMobiForce aspires to be one of the leading Indian platform for all kind of Installation and After sales service. Platform which can create work and wealth for Gig Workers and Micro/Medium Entrepreneur.
However, our initial focus is to build an ecosystem for general technical services and improve the chances of employment via the gig economy in the country. We would also love to take things to the global stage!
Q: What 3 tips would you give to founders?
A: Stay focused and always remember your purpose of starting a business.
Be fast and Agile, that's the beauty of Startup to solve problem at a fast pace.
Make sure your team also grows along with the business.